Chocolate Lovers Unite!
The Long Grove Chocolate Festival will return to the historic streets and parkways of downtown Long Grove, on May 19, 20, and 21, 2023. Organizers of this season's Chocolate Fest are working to provide an amazing three days of live music, family activities, chocolate vendors, and chocolate experiences! 
*NOTICE: No outside alcohol is permitted within the fest. Thank you.
"As long as there is chocolate, there will be happiness."

Wayne Gerard Trotman
---
Get your tickets today!
Children under 12 are free with a paid adult.
Main Stage Music
As always, Chocolate Fest will host multiple stages of live entertainment and music sprinkled throughout the historic town, from stripped-down acoustic artists to Chicago's biggest party bands. The main stage lineup is as follows:
Friday, May 19, 2023
9:00PM – 11:00PM
Eliminator
6:30PM – 8:20PM
Heart 2 Heartbreaker
4:30PM – 6:00PM
Vinyl Goldmine – Gerald
2:30PM – 4:00PM –
Daniel Cronson Band
12:00PM – 02:00PM –
Eddie Andersen Trio
Saturday, May 20
09:00PM – 11:00PM
ARRA
7:00PM – 8:20PM
The Gingers
5:00PM – 6:30PM
Charlie Foxtrot
3:00PM – 4:30PM
David's House
1:30PM – 2:30PM
Six on Friday
12:00PM – 1:00PM
School Of Rock Arlington Heights
Sunday, May 21
4:00PM – 6:00PM
American English
1:30PM – 3:30PM
The Noize
12:00PM – 1:00PM
School of Rock Barrington
Chocolate Activities
For the young and young at heart, Chocolate Fest 2023 will include a dedicated children's area with complimentary throwback games and thrilling entertainment. Chocolate Fest also marks the official opening of the spring shopping season in town, with village merchants featuring their own decadent chocolate-themed specialties and sales throughout the event weekend. It's the perfect time for visitors to explore and fall in love with a sweet old friend – historic downtown Long Grove!
Ash and Willow Beauty Bar and Boutique
We will have sales, giveaways, and cupcakes Friday and Saturday
Broken Earth Winery
Red Sangria $8 and Chocolate Caramel Cocktail $9 all weekend
Corked
Corked is excited to offer our nearly legendary Chocolate Old Fashioned! Made with Old Forester Bourbon and Aztec Chocolate Bitters, garnished with a chocolate covered Luxardo cherry! We will also be offering $8 glasses of world-class wine along with sangria and beers at our satellite bar on the lawn. We can't wait to celebrate the first fest of the season with you all!
Enzo & Lucia Ristorante
Chocolate Martini – tent price – $12 (plastic cup) indoor price $14
Large Chocolate Cannoli – $8 a piece
Available all day!
Epilogue
All Sid Dickens Memory Blocks are 20% Off!
Long Grove Confectionery – Apple Haus – Coffee Co
Hundreds of chocolates, plus chocolate covered strawberries, frozen hot chocolate, and croissants.Chocolate Fest will be 'Sprinkled" with happiness and fun.
Ma and Pa's Candy
Chocolate Grand Slam partnership with Corked, Enzo & Lucia and Buffalo Creek Brewing. See details here. https://bit.ly/ChocGrandSlam
In addition to the large variety of chocolate items always available in our retail store, we will have a specially selected package of handmade chocolates for sale. Purchasing this item gives customers the opportunity to participate in the Chocolate Grand Slam listed above.
Dipping Chocolates in our Candy Kitchen on Friday, Saturday and Sunday.
The Irish Boutique
Irish & British Chocolate Mystery Bag $5
The Village Tavern
Godiva Chocolate Martini, Chocolate Covered Strawberry Martini, Chocolate Old Fashion, signature Chocolate BBQ Sauce on a burger or chicken breast sandwich, Tavern Toffee Sundae, Chocolate Flourless Torte and Tavern Toffee. All available starting Friday May 19th.
Viking Treasures Scandinavian Gifts
Chocolate Coffee Syrup, $12.95, available now
Vintage Charm Homestead
We have a variety of dessert teas such as Organic Cinnamon Chocolate Brownie, Chocolate Caramel, and more. But don't worry they have no calories. You get all the flavor without the guilt. Each tin of loose leaf tea ranges from $15.50 to 15.99. They are available now, for the Chocolate Fest you get 10% off any Chocolate dessert tea.

---
Chocolate Fest Summary Detail
Dates: May 19, 20, 21, 2023
Location: Historic Downtown Long Grove, 145 Old McHenry Rd, Long Grove, IL 60047
Hours: Fri, 12 pm – 11 pm, Sat, 10 am – 11 pm, Sun, 10 am – 6 pm
Parking: limited complimentary in all public lots in downtown Long Grove, ride sharing is recommended/encouraged
Press Photos: can be obtained by contacting jody@grimaldipr.com
---
Carnival
Returning this year, a classic carnival with everyone's favorite rides that will thrill the young and young at heart.
| Hours | Promotions |
| --- | --- |
| 12PM – 9PM | $30 Unlimited Wristband (12PM – 5PM & 5PM – 9PM) |
| 11AM – 9PM | $30 Unlimited Wristband (11AM – 5PM & 5PM – 9PM) |
| 11AM – 5PM | $30Unlimited Wristband (11AM – 5PM) |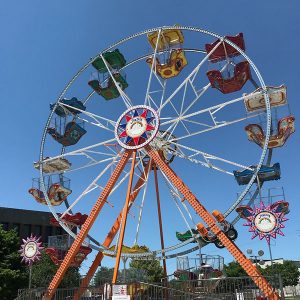 ---
Parking Shuttle Available
PICK-UP/DROP OFF
**Run a loop between:
Golf Dome Parking Lot
801 McHenry Rd
Buffalo Grove, IL
AND
Archer Rd (in between Robert Parker Coffin & Old McHenry Rd) **next to entrance to Carnival Parking Lot
DAYS/HOURS:
Saturday, 5/20: 10:45am – 11:15pm
Sunday, 5/21: 10:45am – 6:15pm
---
Sponsors