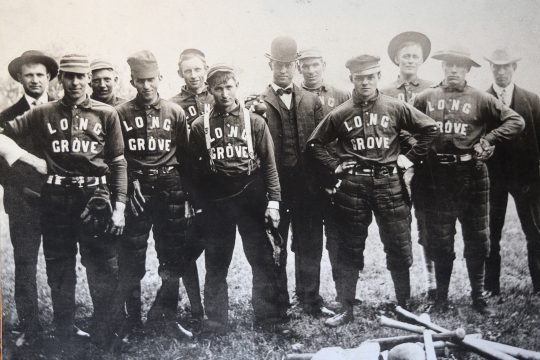 A Generational Crossroads
Every town has a story to be told.
Historic downtown Long Grove's story is almost 200 years in the making. What was once a small farming settlement of German pioneers has evolved into a charming destination town that attracts tens of thousands of visitors a year.
Long Grove stands out as Illinois' first historic district. The original settlers emigrated from Germany in the 1840's and named the town Muttersholtz ("Mother's Wood") after their ancestral home. Legend has it that they picked the area because the "long grove" of trees reminded them of the terrain back home. However, as time went on, residents desired an English name, so Long Grove was chosen.
As a crossroads village, farmers historically came to town to buy their supplies and have their horses shod while enjoying a brief respite at The Village Tavern, which is still in operation today (and considered Illinois' oldest continually operating restaurant and tavern).
Many of the original homes and businesses now bear plaques recognizing their importance to Long Grove's history. The signature Covered Bridge and other village landmarks in the historic district have all been carefully guarded as the town has grown over the years into a unique and vibrant destination for residents, merchants, and visitors alike.  
Less than 40 miles outside Chicago, this special village has retained all the character of its original farming community roots, with historic buildings, cobblestone walks, and flowering gardens, set in a secluded rural atmosphere.
Along with the traditional favorites, historic downtown Long Grove has an exciting new mix of attractions, offering contemporary goods and style, arts and entertainment, and festive spaces to fulfill the wishes of a whole new generation. 
Whether it's everyday shopping and dining or a weekend family getaway, there's always a good reason to visit Long Grove…and discover its historic story firsthand.    
*Learn more by visiting the Long Grove Historical Society https://longgrovehistory.org